WILL WRITING TESTIMONIALS
We have written more than 15,000 Wills and helped more than 500 families in applying for the grant of probate/letters of administration. We can help more.
Thank you all for having your Will written, and for supporting and sharing the importance of writing a Will to your loved ones.
With your support, we will continue to deliver dedicated professional Will writing services at affordable rates to those who need our service.
Will Writing Testimonials
Read what our satisfied clients say about our dedicated professional service.
Email Testimonial from Company attending Our Will Writing Talk JEBSEN & JESSEN (SEA) PTE LTD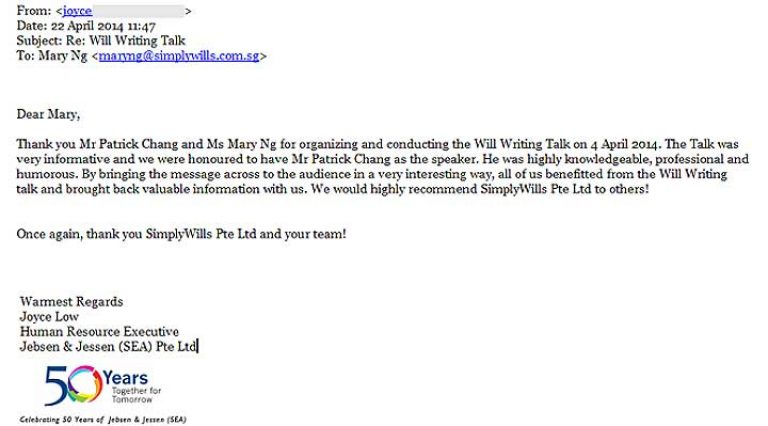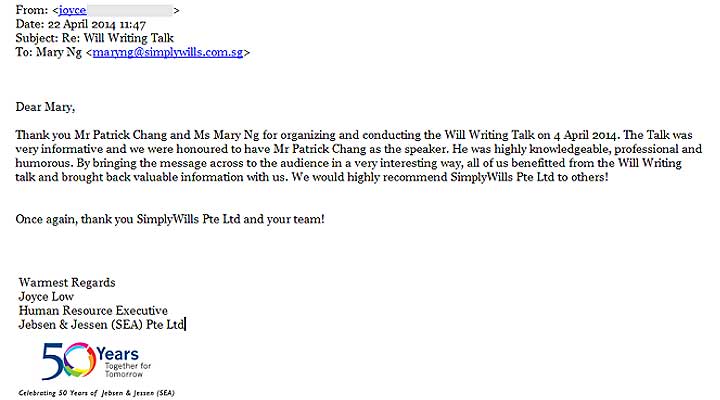 Will Writing Testimonials
Email Testimonial from Satisfied Client engaging our Will Writing Service LYNNETTE TEO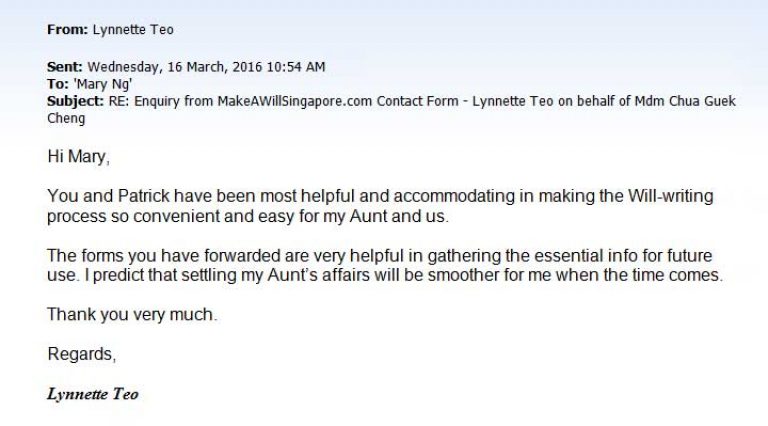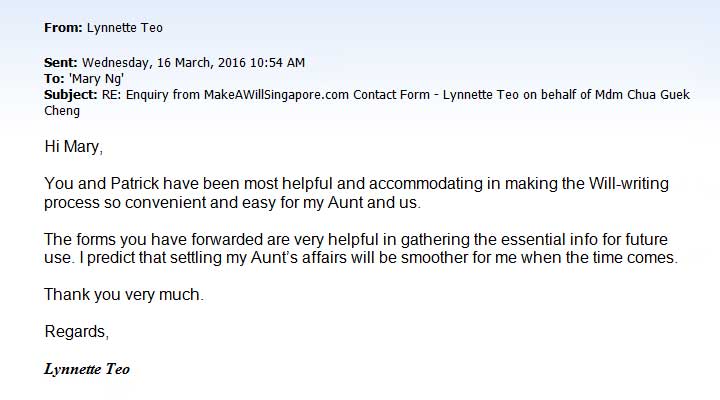 Whatapps Testimonial from Satisfied Clients engaging our Will Writing Services TAN HONG SZE & LINDA LIM
Will Writing Testimonials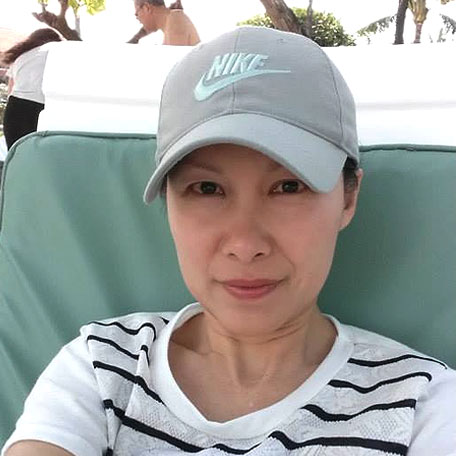 "I am relieved to have my Will written according to my wish. I had never expected I was able to make this important decision so soon. Writing a will had never crossed my mind until Mary shared with me the importance of having one. Having witnessed the amount of time my husband had spent, the frustration he had, on handling the estate distribution of his father under a no Will scenario, which stretched up to almost 2 years, I realized its importance and decided to have mine written. Thanks Mary and Patrick for the assistance rendered."
Mrs Penny Ong, Accounts Executive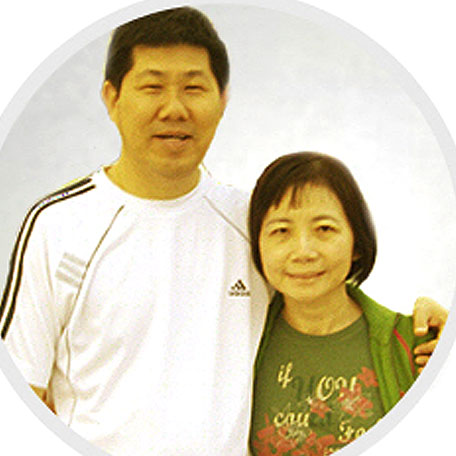 "We're grateful to Mary for introducing us to Will writing! Mary was very clear and detailed in her explanations. After listening to all the pros & cons of writing a Will, she managed to convince us that we should have one. Patrick was very professional & happily acceded to our last minute insertion without any fuss. The whole process was smooth & fast. We're very happy with their services and would not hesitate to recommend them to anyone who is interested to make a Will. Honestly, we're much happier after making the Will, knowing that everything will be taken care of should any unfortunate happens."
Mr & Mrs David Lee
Sales Director & Accountant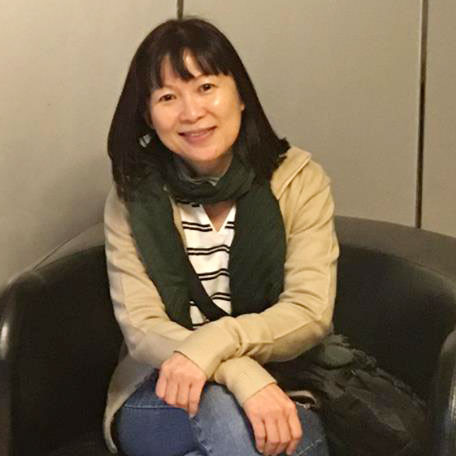 "My family and I did not have the slightest clue of what to do with our dad's asset when he passed away without making a Will. Fortunately, Mary shared with us useful information pertaining to probate and letters of administration and how her company could assist in obtaining the Letters of Administration for us to proceed with our dad's estate distribution. Fortunately, everything went smoothly and we managed to settle it within 1 & 1/2 months which previously I understood from friends that such process normally took at least 3 months or longer. Thanks Patrick and his team for helping us to expedite our case."
Mrs Esther Chow, Accounts Assistant
"I was astonished when Mary shared with me so many things about making a Will which I had earlier misconstrued it to be something inconsequential and not applicable to me. Now I fully understand the convenience I can give my loved ones in event of any unforeseen. A seemingly complicated process was so professionally handled. I never knew I could have one written in such a short time and at a very good rate too. Thanks Mary for the sharing and advice on how I could include my parents in the distribution which, by default under the Intestacy rules, they are not included in my case. Also thanks to Patrick for the detailed explanation of my Will."
Mr Adrian Soon, Company Director
"I wasn't really ready to make a Will when Mary shared with me about Will writing some years ago. It was only during the time when I was seriously ill and looking at my young children, I suddenly realized that life could be so vulnerable. I wouldn't know what would happen to me next, hence, I decided to write one. I wanted to ensure that my children would be taken care of by the people I trust and decide on how my monies would be used to ensure that my children got the best out of their growing up, if without me. People used to say that talking about such topic is a taboo. I strongly feel now that without preparation and believing that there will always be ample time to prepare for anything would be the greatest mistake. Honestly, I'm much relieved now that I have made my Will, knowing that my children will be taken care of should any unfortunate happens to me. Thanks Mary for the good follow-up with me on making a Will."
Mrs Susie Kwan, Assistant Manager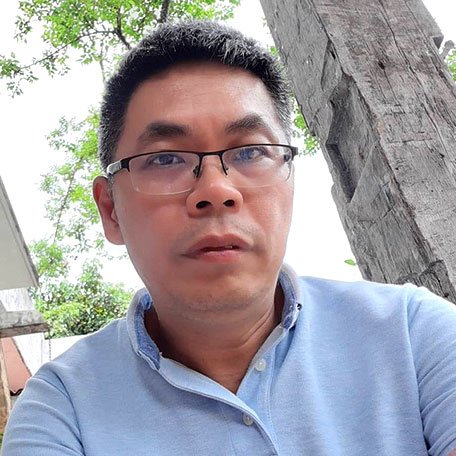 "Thanks Mary for introducing me to Will writing! Previously I had no clue about Intestacy Rules and how they would affect my decision to distribute my assets when I am gone. After understood the limitations of the Rules, I decided to have my Will written so that I could include those whom I have wanted them to be a beneficiary in my Will. The whole process of making a Will wasn't that lengthy and complicated as I imagined it to be. It took me only a few days from the moment I submitted my fact-finding form to Mary and receiving my Will. I am grateful that I have received this piece of useful information for me to make this important decision that matters so much to me. Thank you so much Mary."